Farces et Attrapes - Zonko's Joke Shop
D'innombrables étagères débordent de farces et attrapes. Les jeux et objets amusants sont peu rangés et disposés un peu partout. La boutique est souvent remplie d'élèves et on y ressent une atmosphère joyeuse et pleine d'énergie. Numerous shelves are full of the tricks and jokes. Toys and funny objects are all around. The shop is often filled with students, and the atmosphere is full of joy and energy.
__________________________________
Arturus Zonko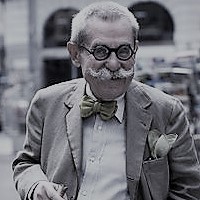 Zonko est excentrique et aime faire des farces, c'est pourquoi il aime aussi en vendre. N'hésitez pas à lui demander de participer, il sera ravi !
Zonko is excentric and loves playing tricks, that's why he enjoys selling them so much. Don't hesitate to ask him to participate, he'll be thrilled!
__________________________________
Ce qu'on peut y trouver - What you can find there:
Les objets peuvent (ou non!) vous apportez des effets ou des bonus - Stuff can (or not) give special effects or bonuses.
* Asticots Siffleurs - Whizzing Worms ~ 5 G.
* Bombabouses - Dungbomb ~ 10 G.
* Bonbons à Hoquet - Hiccough Sweets ~ 5 G.
* Boomerang à mouvement perpétuel - Ever-Bashing Boomerang ~ 10 G.
* Fausse Baguette - Fake Wand ~ 5 G.
* Feuxfous Fuseboum - Wildfire Whiz-bangs ~ 10 G.
* Frisbee à dents de serpent - Fanged Frisbees ~ 10 G.
* Savons sauteurs - Frog Spawn Soap ~ 5 G.
* Tasse à Thé mordeuse - Nose-Biting Teacup ~ 10 G.
* Yo-yo hurleur - Screaming Yo-yo ~ 5 G.

Utilisez ce fil pour les achats rapides. Pour d'autres contenus ou interactions, ou pour demander un travail, créez un nouveau sujet pour discuter avec lea marchand.e - Use this thread for quick shopping. For other stocks or interactions, or to ask for a job, create a new subject to start chatting with the vendor.

Marchands-Vendors

Admin




Activité - What You Do [IG]

: Marchands - Vendors


Age - How Old Are You [IG]

: X

Fiche Personnage - Character Sheet
Vitalité, Life Points:


(50/50)


Etats - Conditions: X
Description:




Sujets similaires
---
Permission de ce forum:
Vous
ne pouvez pas
répondre aux sujets dans ce forum