Le Chaudron Baveur - The Leaky Cauldron

D'apparence première plutôt miteux et sale, le Chaudron Baveur est tout de même le lieu de passage le plus connu entre monde moldu et monde magique. La salle principale est composée de tables, chaises, et bancs sur lesquels s'installer pour manger et boire. A l'étage se trouvent des chambres à louer. Au fond de la pièce, une porte mène dans une petite cour : là, tapotez correctement le mur et il s'ouvrira sur le Chemin de Traverse ! Seemingly rather not suitable, the Leaky Cauldron is yet the most famous way to go from the muggle world to the wizarding world and vice versa; The main room is filled with tables, chairs, and sittings to drink and eat there. Upstairs are the rooms to rent. At the back of the pub, the door leads to a little courtyard: if you know how to hit the wall, you may gain access to Diagon Alley!
__________________________________
Amara Dodderidge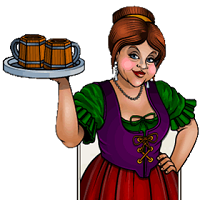 Descendante de la fondatrice du Chaudron Baveur, Amara est une femme pulpeuse et malicieuse. Dans sa famille, on se transmet la gestion de la taverne générations après générations. Amara tient désormais le pub depuis assez longtemps pour qu'on la connaisse un peu et pour savoir reconnaître les habitué.e.s de son comptoir !
Descendant from the Leaky Cauldron's founder, Amara is a luscious and mischievous woman. In her family, the pub's management goes from generation to generation. Amara has now been at it long enough to be known and to know some usuals!
__________________________________
Ce qu'on peut y trouver - What you can find there:
Les aliments peuvent (ou non!) vous apportez des effets particuliers - Food can (or not) give special effects.
* Part de gâteau du jour - Piece of today's cake ~ 3 G.
* Verre de Bieraubeurre - Glass Butterbeer ~ 5 G.
* Verre de Whisky Pur Feu - Glass of Fire Whisky ~ 8 G.
* Bouteille de Vin - Wine Bottle ~ 10 G.
* Plat du jour - Today's meal ~ 12 G.
* Bouteille de Whisky Pur Feu - Fire Whisky Bottle ~ 15 G.
* Petit-déjeuner traditionnel - Full Traditional Breakfast ~ 15 G.

Utilisez ce fil pour les achats rapides. Pour d'autres contenus ou interactions, ou pour demander un travail, créez un nouveau sujet pour discuter avec lea marchand.e - Use this thread for quick shopping. For other stocks or interactions, or to ask for a job, create a new subject to start chatting with the vendor.

Marchands-Vendors

Admin




Activité - What You Do [IG]

: Marchands - Vendors


Age - How Old Are You [IG]

: X

Fiche Personnage - Character Sheet
Vitalité, Life Points:


(50/50)


Etats - Conditions: X
Description:




Sujets similaires
---
Permission de ce forum:
Vous
ne pouvez pas
répondre aux sujets dans ce forum