Accessoires de Quidditch de Qualité - Quality Quidditch Supplies

Le magasin de Quidditch est plein de vie et prêt à vous accueillir ! En vitrine, les derniers modèles de balais ; à l'intérieur, des étagères remplies d'accessoires du premier prix au dernier cri ! The Quidditch shop is full of life and ready to welcome you! In front, you can see the last models of flying broomsticks, and inside, it's full of accessories and supplies, from the cheapest to the latest in fashion!
__________________________________
Julia Fitzgerald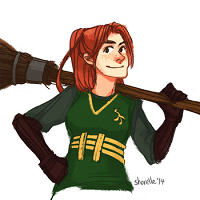 Julia Fitzgerald a passé assez de temps à être une remplaçante chez les Harpies de Holyhead, elle en a eu assez d'attendre son tour : elle a ouvert son échoppe et compte bien faire profit en utilisant ses connaissances et un peu de renommée. Très souriante et enjouée, elle donne à la boutique son caractère dynamique !
Julia Fitzgerald spent enough time waiting to be called to play amongst the Holyhead Harpies: she is through with that and opened her own shop. She intends to become rich with it and she hopes some celebrity will help her along. Always smiling and happy, she gives a certain dynamic to her shop!
__________________________________
Ce qu'on peut y trouver - What you can find there:
Les objets peuvent (ou non!) vous apportez des effets ou des bonus - Stuff can (or not) give special effects or bonuses.
* Feuopoudre (le dernier modèle!) - Tinderblast (latest in fashion!) [le plus rapide pour l'instant, et assez beau - fastest for now, and quite beautiful] ~ 500 G.
* Brossdur 3 - Cleansweep 3 [bon modèle, très rapide - good broom, very fast] ~ 400 G.
* Comète 180  - Comet 180 [bon modèle, très souple - good broom, very agile] ~ 350 G.
* Brossdur 2 - Cleansweep 2 [modèle correct, assez vif - correct broom, quite quick] ~ 300 G.
* Comète 140 - Comet 140 [modèle correct, plutôt résistant - correct broom, quite strong] ~ 300 G.
* Friselune - Moontrimer [vieux modèle, familiale, sécurisant - old family safe broom] ~ 100 G.
* Soin du bois - Wood protection ~ 5 G.
* Gants de Quidditch - Quidditch Gloves ~ 10 G.
* Casque de Quidditch - Quidditch Helmet ~ 15 G.
* Uniforme basique de Quidditch ~ Basic Quidditch Uniform ~ 20 G.
* Bel Uniforme de Quidditch ~ Nice Quidditch Uniform ~ 30 G.

Utilisez ce fil pour les achats rapides. Pour d'autres contenus ou interactions, ou pour demander un travail, créez un nouveau sujet pour discuter avec lea marchand.e - Use this thread for quick shopping. For other stocks or interactions, or to ask for a job, create a new subject to start chatting with the vendor.

Marchands-Vendors

Admin




Activité - What You Do [IG]

: Marchands - Vendors


Age - How Old Are You [IG]

: X

Fiche Personnage - Character Sheet
Vitalité, Life Points:


(50/50)


Etats - Conditions: X
Description:



---
Permission de ce forum:
Vous
ne pouvez pas
répondre aux sujets dans ce forum